Return to Main Homepage | Return to Symbian OS V5.0 Program Index
RMRShop - Shopping List Manager
(For all Symbian OS V5.0 Platforms except Osaris)
Pages for non-English visitors:
RMRShop is based on the best-selling Shopping List Manager (SLM) a PC Windows based program written by Joel Rose. The idea is that you predefine the location (aisle) of the items you normally buy in each of your local stores. Then, when it is time to go shopping you can build your shopping list simply by tapping on the items. Once complete, you can sort the list by aisle number, so that as you walk around the store the items are presented in order. They can them be crossed off as they are put into the shopping trolley. If the cost option is enabled, then each item can be allocated an estimated cost so you can see how much your shopping bill is going to cost. The program also copes with coupons, flagging such items in the shopping list.
---
Screenshot
Main screen on a Revo :

on a Series 5 :

on a Series 7 :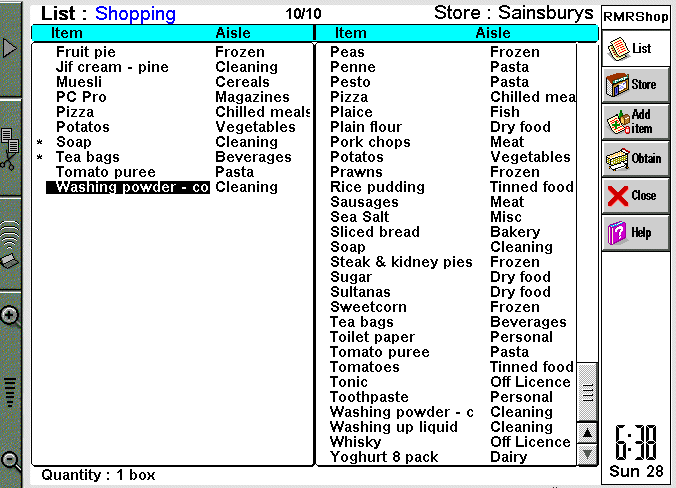 Program Information
| | |
| --- | --- |
| Program name | RMRShop |
| Current version | 1.1 |
| Release date | 03 Jun 2000 |
| Languages available | English, German, Spanish, Danish, Italian, Dutch & French |
| Author | Alan Richey |
| Download file name | RMRShop.zip |
| Download size | 110K |
| RegNet number | 6082 |
| Registration fee | ú5 - US$10 - €8 |
| Platforms | Symbian OS V5.0 Operating System |
| Storage requirements | 100K |
| Memory requirements | Roughly 200K of free System memory to run in |
Downloads
Please feel free to download and evaluate RMRShop, just like you can any other program on our site.
Other Information
And don't forget - if you like RMRShop and want to keep on using it, you must register it. Instructions are in the program's 'Readme.txt' file and Help, but if you want to register right now, then you can do so on-line at RegNet, this will cost you US$15+US$5 in Credit Card Handling Charges.
---
Return to Main Homepage | Return to Symbian OS V5.0 Program Index