Return to Main Homepage | Return to Symbian OS V5.0 Program Index
RMRTask - Extended ToDo Manager
(For all Symbian OS V5.0 Platforms except Osaris - but see note for Revo)
Pages for non-English visitors:

Our extended ToDo Manager is a program designed as an alternative method to the To-Dos in Agenda for recording and managing your tasks that have to be accomplished, whether at work, at home, for hobbies or for personal goals. It uses the principles of good time management, namely breaking down large projects into tasks of manageable size, categorising and setting priorities for tasks, sorting and ordering them, and being able to see progress, results and accomplishments.
---
Screenshot
The main Task screen showing completed, overdue and due tasks, on the Revo:

And on the Series 5

And on the Series 7/netBook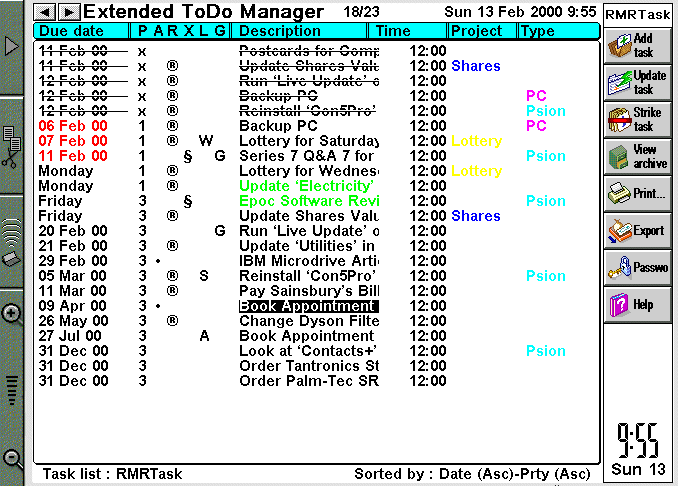 Program Information
| | |
| --- | --- |
| Program name | RMRTask |
| Current version | 2.5d |
| Release date | 12 Nov 2001 |
| Languages available | English, German, Spanish, French, Italian, Dutch,Norwegian, Danish and Czech |
| Author | Al Richey |
| Download file name | RMRTask.zip |
| Download size | 211K |
| RegNet number | 1015 |
| Registration fee | ú5 - US$10 - €8 |
| System requirements | Symbian OS V5.0 Operating System |
| Storage requirements | 140K |
| Memory requirements | Roughly 350K of free System memory to run in |
Downloads
Please feel free to download and evaluate RMRTask, just like you can any other program on our site.
Other Information
Note: There is a problem using the Agenda links if you are running RMRTask on a Revo with the "Today" view selected at the System screen. See the Frequently Asked Questions for a full explanation.
And don't forget - if you like RMRTask and want to keep on using it, you must register it. Instructions are in the program's 'Readme.txt' file and Help, but if you want to register right now, then you can do so on-line at RegNet, this will cost you US$15 + US$5 Handling.
---
Return to Main Homepage | Return to Symbian OS V5.0 Program Index