Return to Main Homepage | Return to Symbian OS V5.0 Program Index
RMRTV - TV Listing Manager
(For all Symbian OS V5.0 Platforms except Osaris)
Pages for non-English visitors:
RMRTV allows you to keep track of the television programs you wish to watch and/or record. For each day you can define the programs, with the associated channels and timings. If the program is a series you can specify it as a repeated entry and then it will automatically appear on each of those days. A program can also be annotated as 'recording' if you don't intend to watch it immediately, and you can also use the Symbian OS V5.0 built-in alarms to warn you to turn on the video recorder. Although not shown on the screenshots, the program fully supports the colour capabilities of the netBook/Series 7.
---
Screenshots
Series 5

Revo

Series 7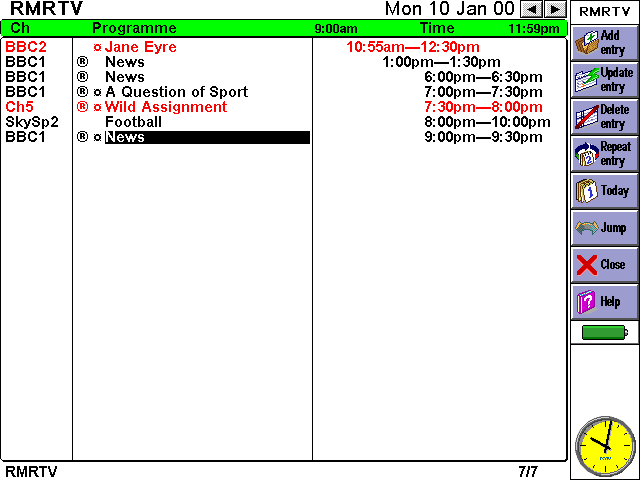 Program Information
| | |
| --- | --- |
| Program name | RMRTV |
| Current version | 1.1a |
| Release date | 10 Oct 2000 |
| Languages available | English, Dutch, Spanish, Danish, French, Italian & Norwegian |
| Author | Alan Richey |
| Download file name | RMRTV.zip |
| Download size | 84K |
| RegNet number | 6051 |
| Registration fee | ú5 - US$10 - €8 |
| Platforms | Symbian OS V5.0 Operating System |
| Storage requirements | 100K |
| Memory requirements | Roughly 200K of free System memory to run in |
Downloads
Please feel free to download and evaluate RMRTV, just like you can any other program on our site.
Other Information
And don't forget - if you like RMRTV and want to keep on using it, you must register it. Instructions are in the program's 'Readme.txt' file and Help, but if you want to register right now, then you can do so on-line at RegNet, this will cost you US$15+US$5 in Credit Card Handling Charges.
---
Return to Main Homepage | Return to Symbian OS V5.0 Program Index