MEMSAnalyser
Analysis Program for Rover MEMS Systems
MEMSAnalyser is a program to analyse the Rover MEMS 1.6 as fitted to Rover cars in the early to mid 90s, and also in the Robin Hood Superspec Kit car. It uses a logging program called MEMSLogger to produce a data log file while driving and then post-drive it analyses up to 50 parameters from the data file and displays them in a graphical format.

Acknowledgement: MEMSLogger uses a program called readmems.exe written by Colin Bourassa as part of his program called MEMSGauge, which provides a real-time display of the ECU parameters (see http://alum.wpi.edu/~colinb/rover-mems-16-diagnostic-protocol.html for details). My thanks for his help and allowing me to use the program.
---
Hardware Requirements
To use MEMSLogger you need to connect a laptop to the ECU. This requires a special cable called a USB to TTL Converter, and the appropriate ECU Connector. Full details of the cable required and how to build it are contained at Colin's website shown above and also at http://memsdiag.blogspot.co.uk/ the site for a program called MEMS_Diag, which does a similar job to MEMSGauge but is designed for the Android Mobile Operating System.
Installation
Download the MEMSAnalyser package (Including MEMSLogger) from here
Unzip into a folder on your computer (I suggest somewhere in the \Documents\ folder.
Read the README.TXT
Screenshots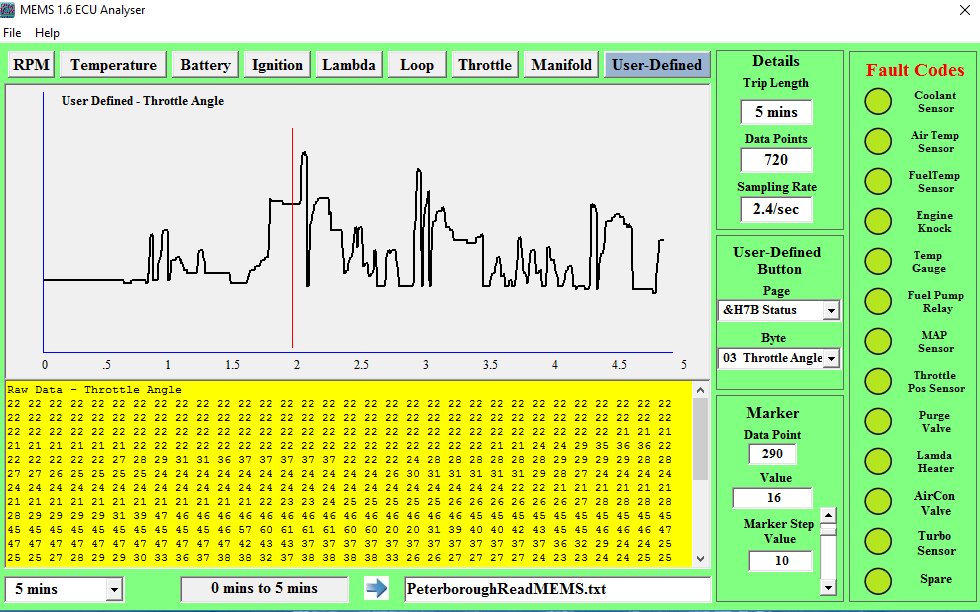 Program Information
| | |
| --- | --- |
| Program name | MEMSAnalyser |
| Current version | 1.0 |
| Release date | 2016 |
| Languages available | English |
| Author | Al Richey |
| Platforms | Windows |
Program History
V1.0 Initial Release
---