Return to Main Homepage | Return to Windows Mobile Program Index
RMRAccounts (WM)
Accounts Suite

Winner of the
NSBasic 2006
Programming
Competition

RMRAccounts is probably the most comprehensive accounts package available for the Pocket PC series of platforms. It combines all the functionality of the RMR financial programs using the following modules:

Bank :

The most comprehensive and configurable finance package available for the platform. It allows multiple groups of accounts, which may be held in different currencies. As well as the usual functions for entering and reconciling Transactions there is also full multi-currency support. Has separate screens for Archives, Standing Orders and Budget Categories

Car :

Keep track of your usage of a Company vehicle by recording your individual journeys, categorising them as Business or Private. Full statistics are presented. Filters allow you to view only data matching set criteria. At appropriate intervals print or export reports for claiming your expenses, then reconcile the entries and archive to a history file.

Expenses :

Keep track of your expenses with multiple trip files to record business expenses. You define named trips set with a vehicle rate and operating currency. Define categories for classifying expenses as meals, train, taxi etc. Then enter expense purchases.

Fuel :

Monitor the fuel consumption of multiple vehicles. Fully configurable for all international measures. Maintains a record of amount paid, price per Gallon/Litre, total amount of fuel, distance travelled and fuel consumption. Full consumption statistics are presented. Other screens allow you to set Reminders for periodic servicing or oil changes, and Expenses to record the vehicle running costs.

Home :

Based on the Quicken Home Inventory module, this lets you keep a record of your possessions for insurance purposes. Records dates of purchase, descriptions, values, serial numbers, and totals, and lets you view them by room location or category. Includes a function to update the values to take account of inflation.

Invest.:

Keep track of the performance of multiple portfolios of shares, stocks or bonds. A main screen records the details of each investment with latest price and total value of the portfolio. A graphical screen shows the historical price performance for each investment, and gives an overall gain (or loss) figure.

See below for the enhancements in 3.2 & 3.4

Use on older machines. With the majority of machines now running PPC 2003 and Windows Mobile 5 & 6 I have withdrawn the versions that used to run on PPC2002, MIPS and SH3 processors. However, they are still available, so just contact me if you need them.
---
Screenshots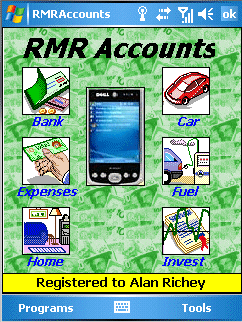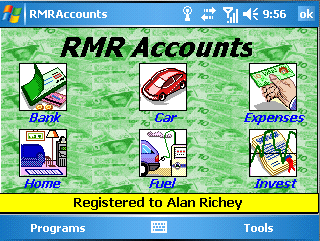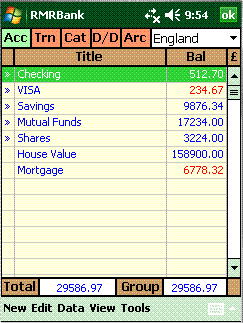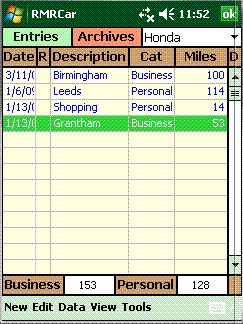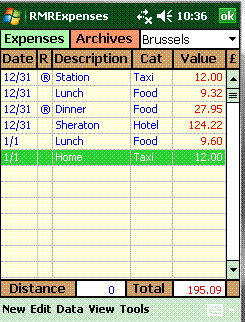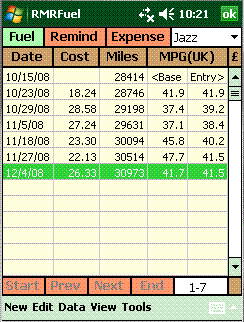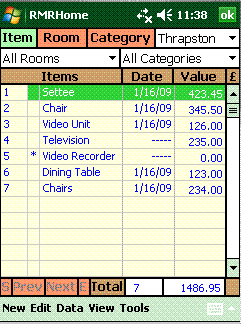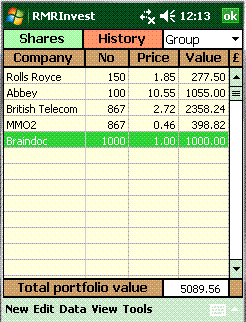 Program Information
| | |
| --- | --- |
| Program name | RMRAccounts |
| Current version | 3.4 |
| Release date | 17 Jan 2010 |
| Languages available | English |
| Author | Al Richey |
| Download file name | RMRAccounts(WM).zip |
| RegNet code | RMRAccounts |
| Registration fee | £10 - US$20 - €15 |
Downloads
Please feel free to download and evaluate RMRAccounts (WM), just like you can any other program on our site.
Download the PC-based Installer (~1.8Mb) or Download the WM-based CAB file (~1,5Mb)
The PC-based installer contains a sample data set. You can download the PC-based installer or the WM-based CAB file here.

Download the full manual in PDF format (~150K)
Other Information
V3.0 Initial issue (to match version numbers of the sub-programs)
V3.2 added automatic portrait/switching and support for the new high-res screen (480x800).
V3.4 Added support for WM 6.5.

Don't forget - if you like RMRAccounts (WM) and want to keep on using it, you must register it. Instructions are in the program's 'Readme.txt' file and Help, but if you want to register right now, then you can do so on-line at RegNet, this will cost you US$20.
---
Return to Main Homepage | Return to Windows Mobile Program Index