Return to Main Homepage | Return to Windows Mobile Program Index
| | |
| --- | --- |
| | RMRExpenses (WM) - Expense Account Manager |
This program allows you to keep track of your Expenses Accounts. You can create multiple trips to record business expenses. You define named trips with a vehicle rate and operating currency. You can define categories for classifying expenses as meals, train, taxi etc. You can then enter expenses or mileage distance of company car journeys, and the cost is automatically calculated from the vehicle rate. The program also allows entry in foreign currencies, with conversion to the defined trip currency. You can then reconcile entries when expenses are reclaimed and export the entries to a text file for importing into a spreadsheet or word processor. Reconciled trip expenses can then be archived, with a separate Archive screen allowing the history file to be viewed.

See below for the enhancements in V1.1, V1.2, V1.3, V2.0, V2.1, V2.2, 3.2 & 3.4

Use on older machines. With the majority of machines now running PPC 2003 and Windows Mobile 5 & 6 I have withdrawn the versions that used to run on PPC2002, MIPS and SH3 processors. However, they are still available, so just contact me if you need them.
---
Screenshots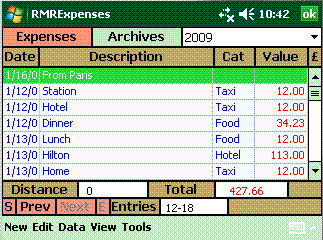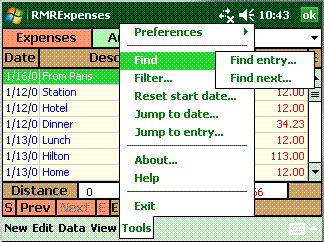 Program Information
| | |
| --- | --- |
| Program name | RMRExpenses (Windows Mobile) |
| Current version | 3.4 |
| Release date | 17 Jan 2010 |
| Languages available | English |
| Download file name | RMRExpenses(WM).zip |
| RegNet number | 11086 |
| Registration fee | £5 - US$10 - €8 |
Downloads
Please feel free to download and evaluate RMRExpenses (WM, just like you can any other program on our site.
Download the PC-based Installer (~600Kb) or Download the WM-based CAB file (~500Kb)

Download the full manual in PDF format (~140Kb)
If you are upgrading from the EPOC version of RMRExpenses, you can download and use RMRImport to get the data transferred across.
Other Information
V1.0 Initial Issue
V1.1 made the following changes:
A proper icon is used .
Backup folder moved to \My Documents\ so that a copy is sent to the during a sync.
Export format now CSV & ASCII.
A 'Clear Attributes option added.
An Information Entry option added.
Auto-step on Reconcile implemented
V1.2 added PPC 2003 compatibility.

V1.3 added default transactions and a date sort.

V1.31 added Windows Mobile 5 compatibility

V2.0 added support for Landscape and full VGA Mode

V2.1 added support for Square (240x240) mode.
V2.2 added the option for defaults to be Global or Trip-defined.
V3.2 added automatic portrait/switching and support for the new high-res screen (480x800).
V3.4 Added support for WM 6.5.

And don't forget - if you like RMRExpenses (WM) and want to keep on using it, you must register it. Instructions are in the program's 'Readme.txt' file, but if you want to register right now, then you can do so on-line at RegNet, this will cost you US$10.
---
Return to Main Homepage | Return to Windows Mobile Program Index