Return to Main Homepage | Return to Windows Mobile Program Index
| | |
| --- | --- |
| | RMRInvest (PPC) - Investment Portfolio Tracker |
This program allows you to keep track of the performance of multiple portfolios of shares, stocks or bonds. The main screen holds all the details of each investment, including latest price and total value of the portfolio. For each investment, and for the total value, a second screen is available which gives a graphical representation of the historical performance as well as an overall gain (or loss) figure.

See below for the enhancements in V1.1, V1.2, V2.0, V2.1,3.2 & 3.4.

Use on older machines. With the majority of machines now running PPC 2003 and Windows Mobile 5 & 6 I have withdrawn the versions that used to run on PPC2002, MIPS and SH3 processors. However, they are still available, so just contact me if you need them.
---
Screenshots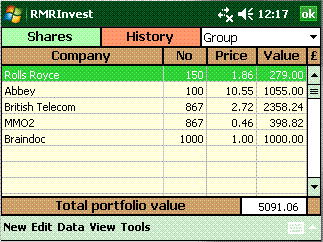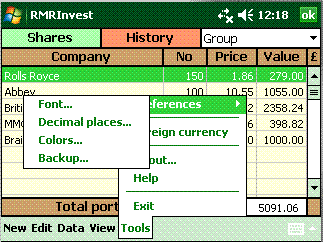 Program Information
| | |
| --- | --- |
| Program name | RMRInvest (WM) |
| Current version | 3.4 |
| Release date | 17 Jan 2010 |
| Languages available | English |
| Download file name | RMRInvest(WM).zip |
| RegNet number | 11159 |
| Registration fee | £5 - US$10 - €8 |
Downloads
Download the PC-based Installer (~600Kb) or Download the WM-based CAB file (~500Kb)

Download the full manual in PDF format (~150Kb)
If you are upgrading from the EPOC version of RMRInvest, you can download and use RMRImport to get the data transferred across.
Other Information
V1.0 Initial Issue
V1.1 made the following changes:
It now also uses a proper icon instead of the NSBasic one.
The Backup folder has also been moved from \Program Files\RMRFuel\ to \My
Documents\RMRBackups\ and a date/time stamp added to the backup folder.
The Export format now includes CSV & ASCII.
A new professional-looking PDF manual has also been produced.
V1.2 added PPC 2003/Windows Mobile compatibility
V2.0 added support for Landscape and full VGA modes.

V2.1 added support for Square (240x240) mode.
V3.2 added automatic portrait/switching and support for the new high-res screen (480x800).
V3.4 Added support for WM 6.5.
And don't forget - if you like RMRInvest (WM) and want to keep on using it, you must register it. Instructions are in the program's 'Readme.txt' file, but if you want to register right now, then you can do so on-line at RegNet, this will cost you US$10.
---
Return to Main Homepage | Return to Windows Mobile Program Index