Return to Main Homepage | Return to Windows Mobile Program Index
| | |
| --- | --- |
| | RMRCar (WM - Company Car Manager |
This program that allows you to keep track of your usage of a Company vehicle. Individual journeys, categorised as Business or Private, and any associated fuel purchases, are recorded and then at appropriate intervals reports can be printed or exported for claiming the expenses.

See below for the enhancements in V1.1, V2.0, V2.1, 3.2 & 3.4.

Use on older machines. With the majority of machines now running PPC 2003 and Windows Mobile 5 & 6 I have withdrawn the versions that used to run on PPC2002, MIPS and SH3 processors. However, they are still available, so just contact me if you need them.
---
Screenshots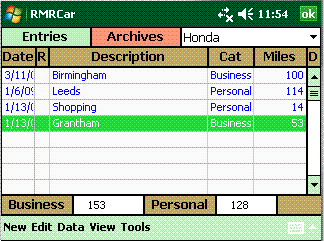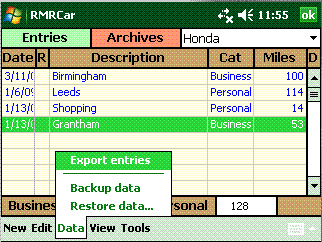 Program Information
| | |
| --- | --- |
| Program name | RMRCar (Windows Mobile) |
| Current version | 3.4 |
| Release date | 17 Jan 2010 |
| Languages available | English |
| Download file name | RMRCar(WM).zip |
| RegNet number | 11263 |
| Registration fee | £5 - US$10 - €8 |
Downloads
Please feel free to download and evaluate RMRCar (WM), just like you can any other program on our site.
Download the PC-based Installer (~600Kb) or Download the WM-based CAB file (~500Kb)

Download the full manual in PDF format (~170Kb)
Other Information
V1.0 Initial Issue
V1.1 made the following changes:
It now also uses a proper icon instead of the NSBasic one.
An "Auto-Backup" has been implemented so you can get the program to automatically do a backup every day/week/month.
The Backup can now be stored on external media.
The details contained in an Export file now match the display if a filter has been applied.
Default Journeys added
Time added as an option
V1.2 added PPC 2003/Windows Mobile compatibility
V2.0 added Landscape and full VGA modes.
V2.1 added support for Square (240x240) mode.
V3.2 added automatic portrait/switching and support for the new high-res screen (480x800).
V3.4 Added support for WM 6.5.
Please note there is a bug in the program, but it is down to Microsoft and there is nothing we can do about it. If you update an entry, the "Start Time" and "Finish Time" values are not pre-seeded into the associated boxes. Although this is not good, we decided it was still worth implementing this feature.
And don't forget - if you like RMRCar (WM) and want to keep on using it, you must register it. Instructions are in the program's 'Readme.txt' file, but if you want to register right now, then you can do so on-line at RegNet, this will cost you US$10.
---
Return to Main Homepage | Return to Windows Mobile Program Index